The English Soap Company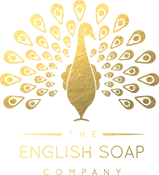 The English soap Company was founded twelve years ago by Bob & Juliet after discovering a large number of vintage soap moulds lying disused in a machinery workshop farm in Kent.
Inspired by the wonderful designs from a bygone age they set out to recreate the luxury soap they remembered from childhood, and used modern twists to create some of the finest vegetable soaps available.
Years were spent in perfecting the art of soap making and perfumery to make the perfect soap. A soap that is smooth and silky in texture, moisturises rather than dries the skin and above all is effused with a luxurious designer perfume that lasts until the end of the bar.
Their Soaps are made from pure vegetable oils to which they add generous amounts of vegetable derived glycerine and shea butter from the African Karite tree to ensure that the bar both moisturises and nourishes the skin.
To ensure that the texture of the bar is smooth and silky they use a triple blending and refining process to ensure the mix is perfectly smooth before it goes to be pressed.
All their perfumes are made in England by expert perfumers and have been designed specifically for the English Soap Company. All their soaps & toiletries are generously perfumed with long lasting quality perfumes.
---